automatic sliding door operators controller DSL-120A
Product Description
#detail_decorate_root .magic-0{border-bottom-width:2px;border-bottom-style:solid;border-bottom-color:#53647a;background-color:#c5ccde;margin-left:0;margin-right:0;padding-left:8px;padding-right:8px;color:#53647a;font-family:Roboto;font-size:24px;padding-top:8px;padding-bottom:4px}#detail_decorate_root .magic-1{width:750px}#detail_decorate_root .magic-2{overflow:hidden;width:750px;height:350px;margin-top:0;margin-bottom:0;margin-left:0;margin-right:0}#detail_decorate_root .magic-3{margin-top:-186px;margin-left:-15px;width:750px;height:750px}#detail_decorate_root .magic-4{width:446px}#detail_decorate_root .magic-5{overflow:hidden;width:446px;height:200px;margin-top:0;margin-bottom:0;margin-left:0;margin-right:0}#detail_decorate_root .magic-6{margin-top:-128px;margin-left:-2px;width:446px;height:446px}#detail_decorate_root .magic-7{width:300px;display:flex;flex-direction:column;margin-right:0;margin-left:4px}#detail_decorate_root .magic-8{text-align:left}#detail_decorate_root .magic-9{font-size:16px;font-family:inherit;font-style:inherit;font-variant-ligatures:inherit;font-variant-caps:inherit;color:#333;text-align:center}#detail_decorate_root .magic-10{box-sizing:content-box;margin:0;padding:0;border:0;font-style:normal;font-variant-ligatures:normal;font-variant-caps:normal;font-variant-numeric:inherit;font-variant-east-asian:inherit;font-weight:400;font-stretch:inherit;font-size:12px;line-height:inherit;font-family:Arial,Helvetica,sans-senif;vertical-align:baseline;color:#333;letter-spacing:normal;orphans:2;text-align:start;text-indent:0;text-transform:none;white-space:normal;widows:2;word-spacing:0;-webkit-text-stroke-width:0;text-decoration-style:initial;text-decoration-color:initial}#detail_decorate_root .magic-11{box-sizing:content-box;margin:0;padding:0;border:0;font-style:inherit;font-variant:inherit;font-weight:inherit;font-stretch:inherit;font-size:14px;line-height:21px;font-family:inherit;vertical-align:baseline}#detail_decorate_root .magic-12{overflow:hidden;width:750px;height:250px;margin-top:0;margin-bottom:0;margin-left:0;margin-right:0}#detail_decorate_root .magic-13{margin-top:29px;margin-left:-3px;width:750px;height:545.625px}#detail_decorate_root .magic-14{overflow:hidden;width:750px;height:501px;margin-top:0;margin-bottom:0;margin-left:0;margin-right:0}#detail_decorate_root .magic-15{margin-top:0;margin-left:0;width:750px;height:501px}#detail_decorate_root .magic-16{width:750px;border-collapse:collapse}#detail_decorate_root .magic-17{min-height:18px;padding:5px 10px;overflow:hidden;width:724px;box-sizing:content-box}#detail_decorate_root .magic-18{text-align:center}#detail_decorate_root .magic-19{display:none}#detail_decorate_root .magic-20{min-height:18px;padding:5px 10px;overflow:hidden;width:164px;box-sizing:content-box}#detail_decorate_root .magic-21{min-height:18px;padding:5px 10px;overflow:hidden;width:342px;box-sizing:content-box}#detail_decorate_root .magic-22{min-height:18px;padding:5px 10px;overflow:hidden;width:360px;box-sizing:content-box}#detail_decorate_root .magic-23{border-bottom-width:2px;border-bottom-style:solid;border-bottom-color:#53647a;background-color:#c5ccde;margin-left:0;margin-right:0;padding-left:8px;padding-right:8px;color:#53647a;font-family:Roboto;font-size:24px;font-style:normal;padding-top:8px;padding-bottom:4px}#detail_decorate_root .magic-24{margin-bottom:10px;overflow:hidden}#detail_decorate_root .magic-25{overflow:hidden;width:750px;height:1443.8502673796793px;margin-top:0;margin-bottom:0;margin-left:0;margin-right:0}#detail_decorate_root .magic-26{margin-top:0;margin-left:0;width:750px;height:1443.8502673796793px}#detail_decorate_root .magic-27{overflow:hidden;width:750px;height:1209.2245989304813px;margin-top:0;margin-bottom:0;margin-left:0;margin-right:0}#detail_decorate_root .magic-28{margin-top:0;margin-left:0;width:750px;height:1209.2245989304813px}#detail_decorate_root .magic-29{overflow:hidden;width:750px;height:491.66666666666663px;margin-top:0;margin-bottom:0;margin-left:0;margin-right:0}#detail_decorate_root .magic-30{margin-top:0;margin-left:0;width:750px;height:491.66666666666663px}#detail_decorate_root .magic-31{overflow:hidden;width:750px;height:330.7640750670241px;margin-top:0;margin-bottom:0;margin-left:0;margin-right:0}#detail_decorate_root .magic-32{margin-top:0;margin-left:0;width:750px;height:330.7640750670241px}#detail_decorate_root .magic-33{overflow:hidden;width:750px;height:324.0242261103634px;margin-top:0;margin-bottom:0;margin-left:0;margin-right:0}#detail_decorate_root .magic-34{margin-top:0;margin-left:0;width:750px;height:324.0242261103634px}#detail_decorate_root .magic-35{overflow:hidden;width:750px;height:1026.7379679144385px;margin-top:0;margin-bottom:0;margin-left:0;margin-right:0}#detail_decorate_root .magic-36{margin-top:0;margin-left:0;width:750px;height:1026.7379679144385px}Detailed Images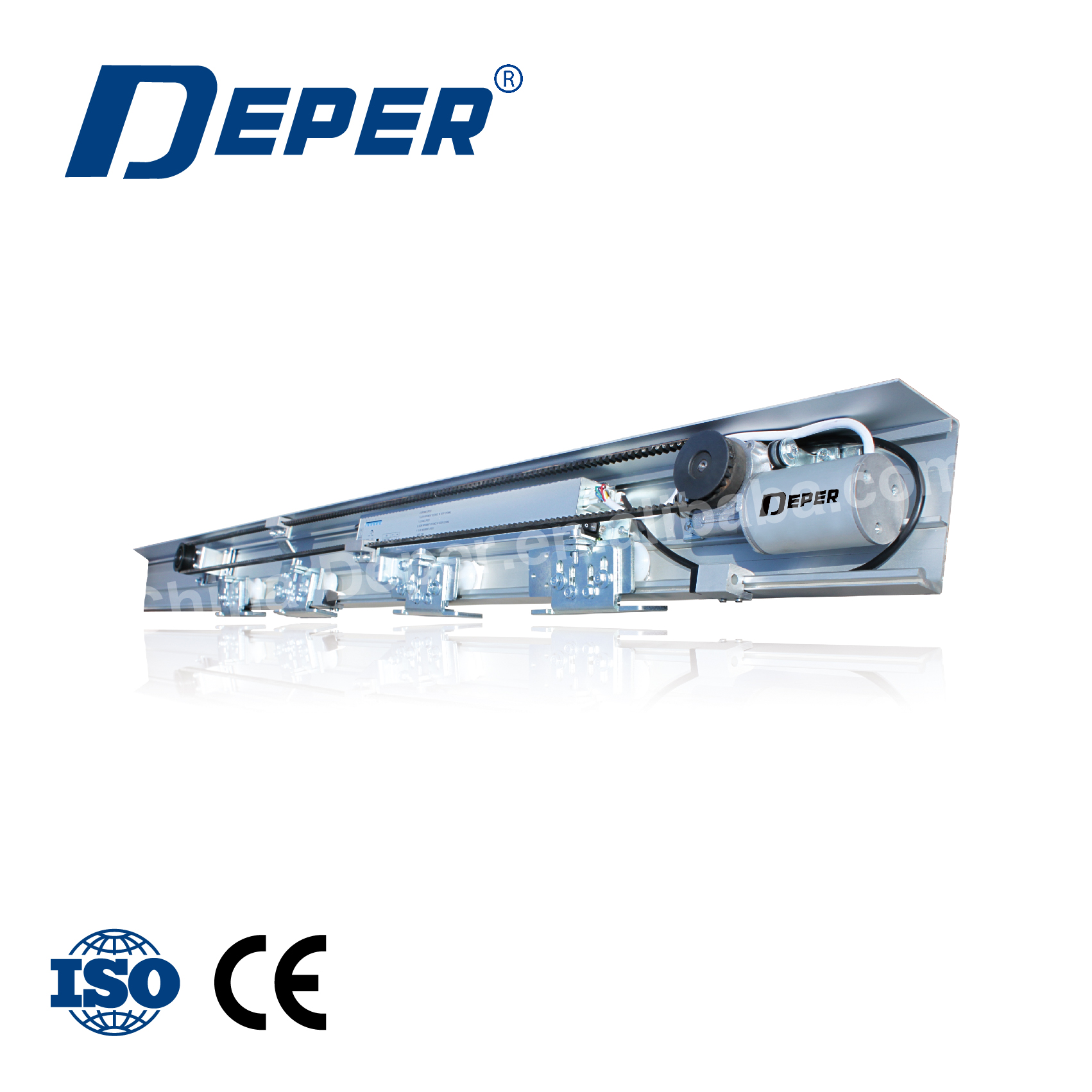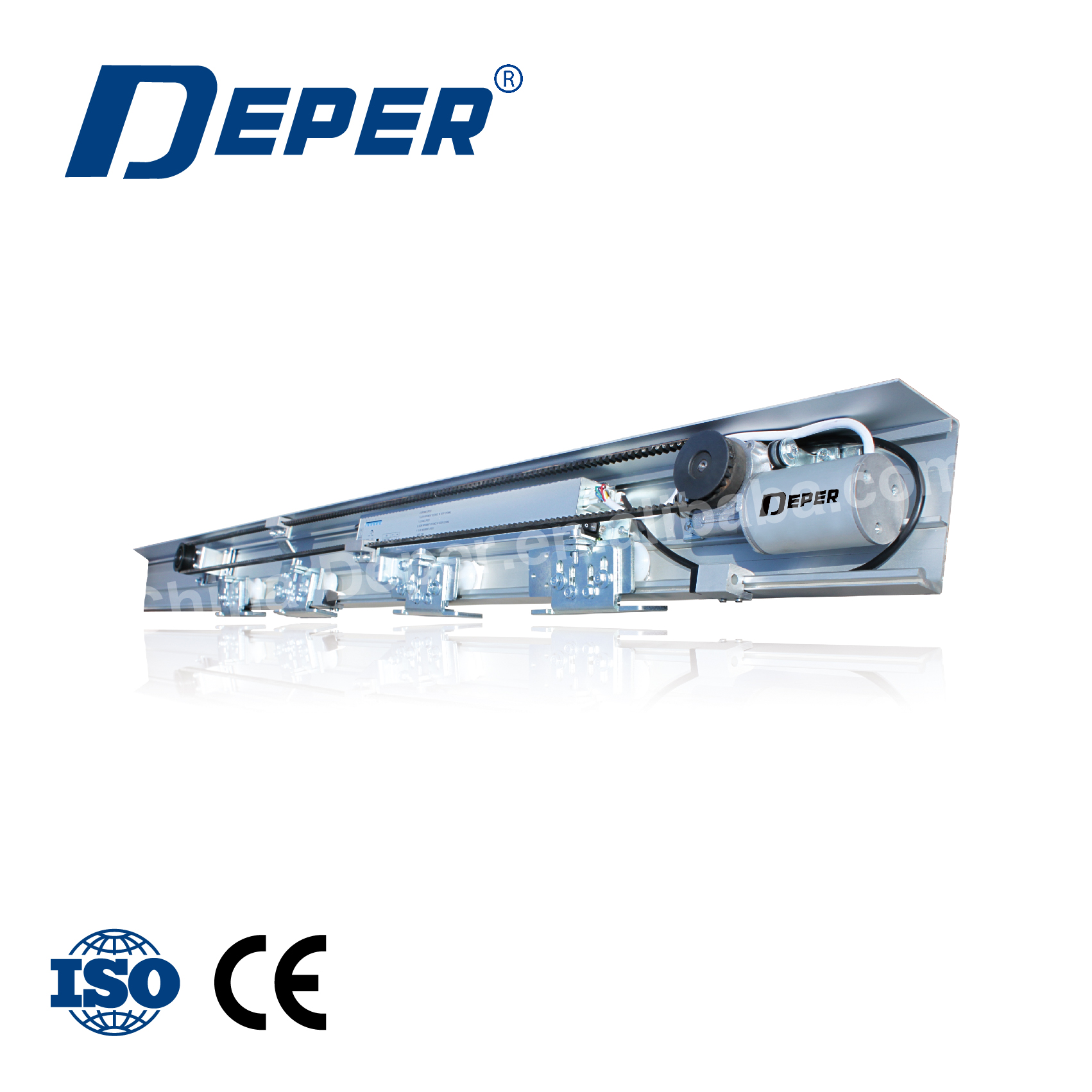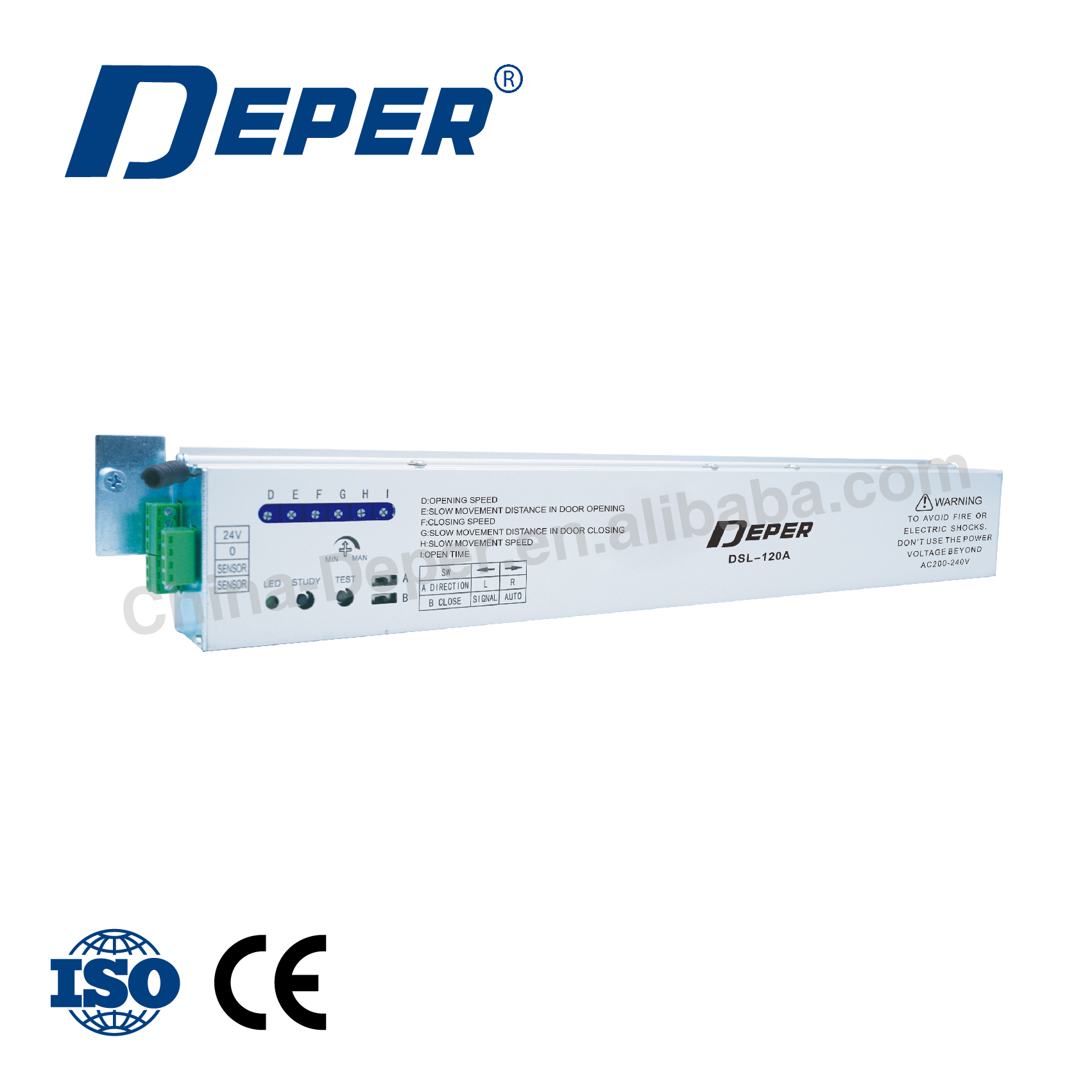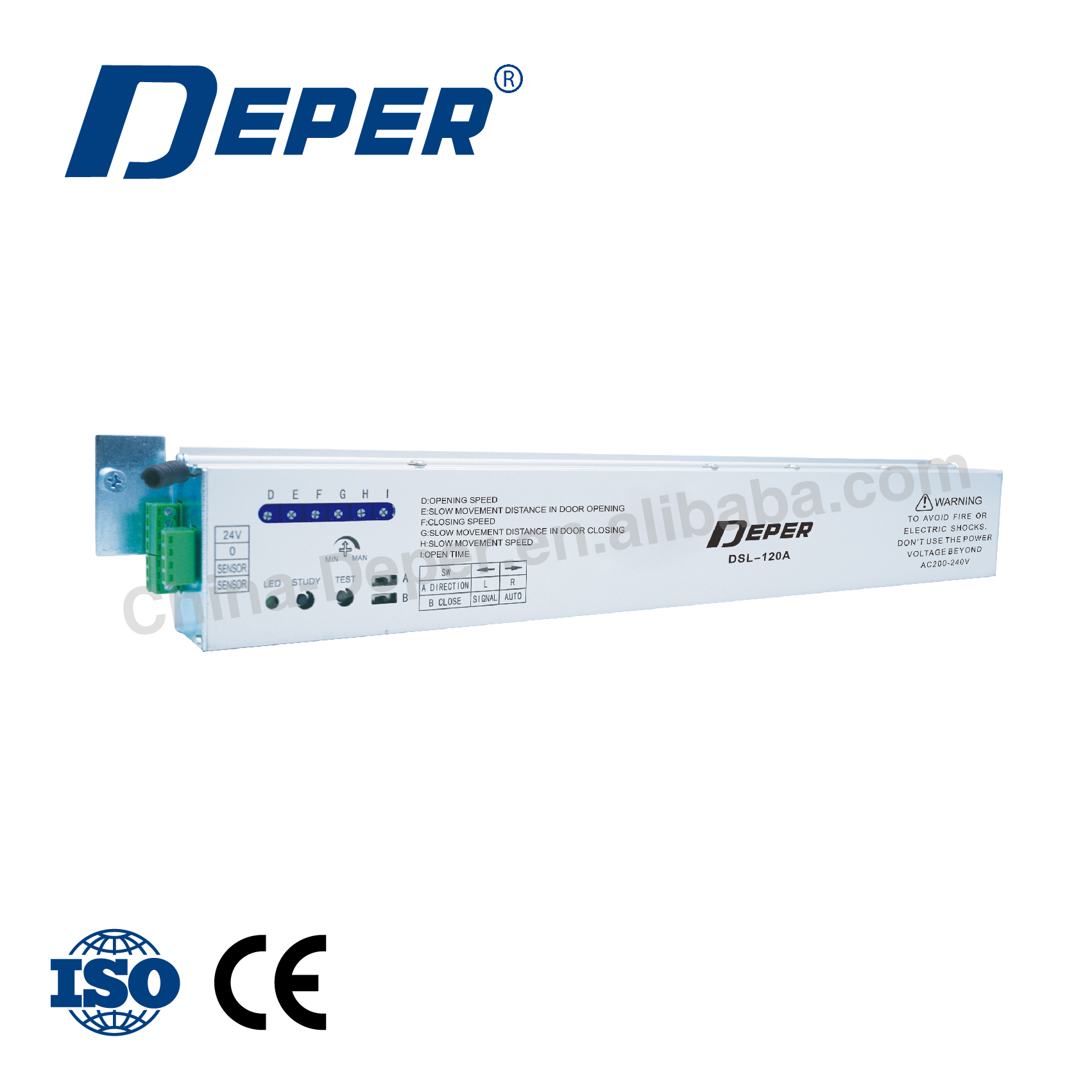 RELIABLE CONTROL UNITThe control device of sliding automatic door contains basic function and extension function: the optional remote control module converts automatic program settings can realize automatic/open/closed/half-open to meet customer needs.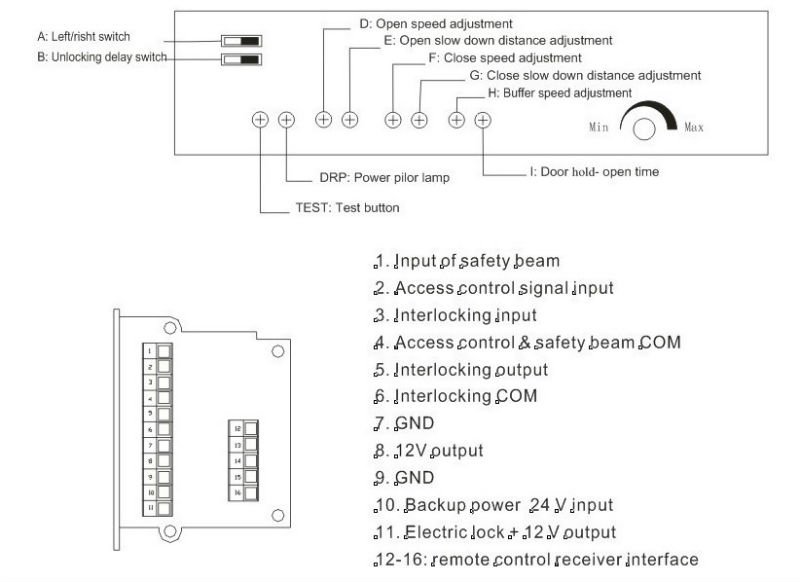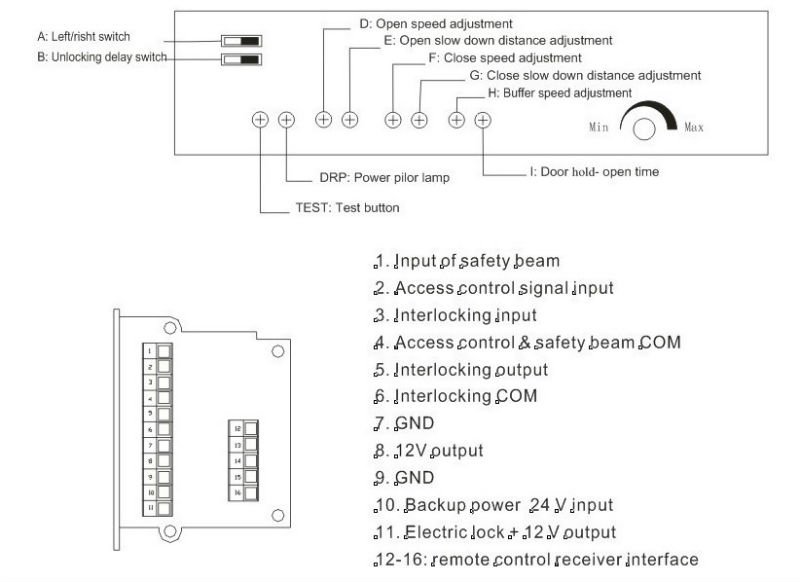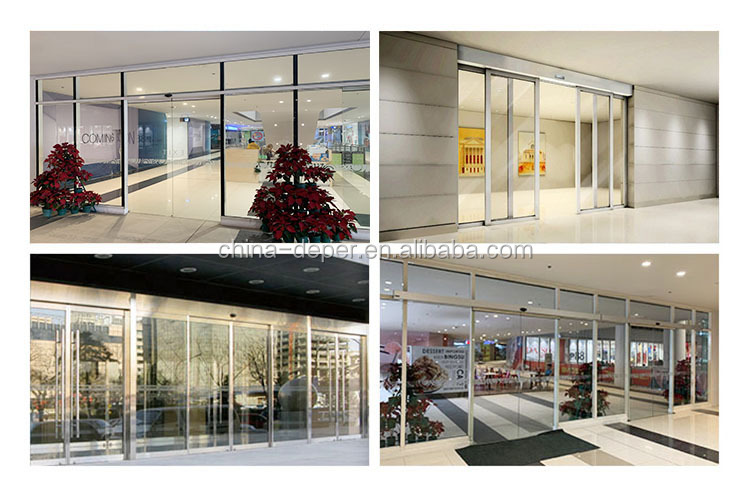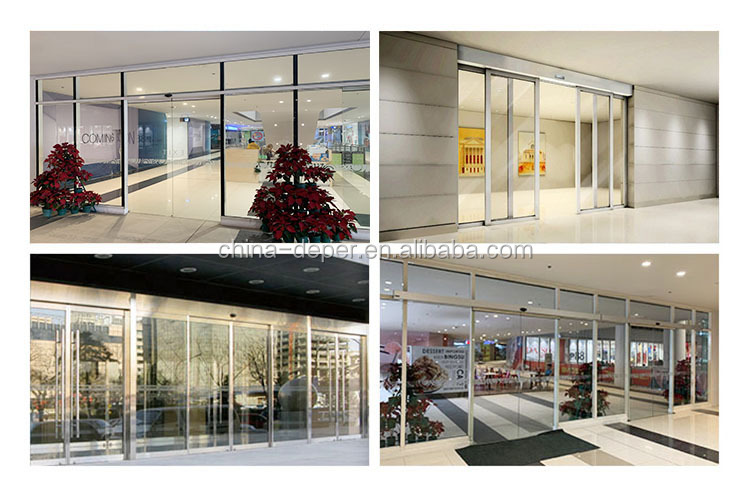 Product Description
1.motor   2.controller   3.belt   4.belt   brackets   

5.idle pulley   6.switch   7.hangers   8.stopper 

9.floor guide   10.guide rail

Aluminum color

2100mm,4200mm,4800mm,5000mm,6000mm

Single-leaf & Double-leaf

 ≤ 1 x 120 kg, ≤ 2 x 100 kg

AC220±10%, AC110±10%, 50-60Hz

Various microwave/infrared sensor, wireless touch, foot inductive switch, hand inductive switch, firewarning, disable button etc...

150-460mm/S(adjustable)

130-460mm/S(adjustable)

 0-8S(adjustable)

 700-1300mm/600-1200mm

 -20 ~ +50°C

<55db

2 millions times test passed

24 months
hot productRecommended by sellerDeper security 150kg automatic glass door sliding automatic door operator/opener/system$190.00 - $275.00 / Set2 SetsDSL-125B 150kg brushless dc motor automatic glass sliding door system operator$184.00 - $260.00 / Set1 SetDZ08 single open doors automatic sensor magnetic sliding door for Office$260.00 - $290.00 / Set1 SetOur Company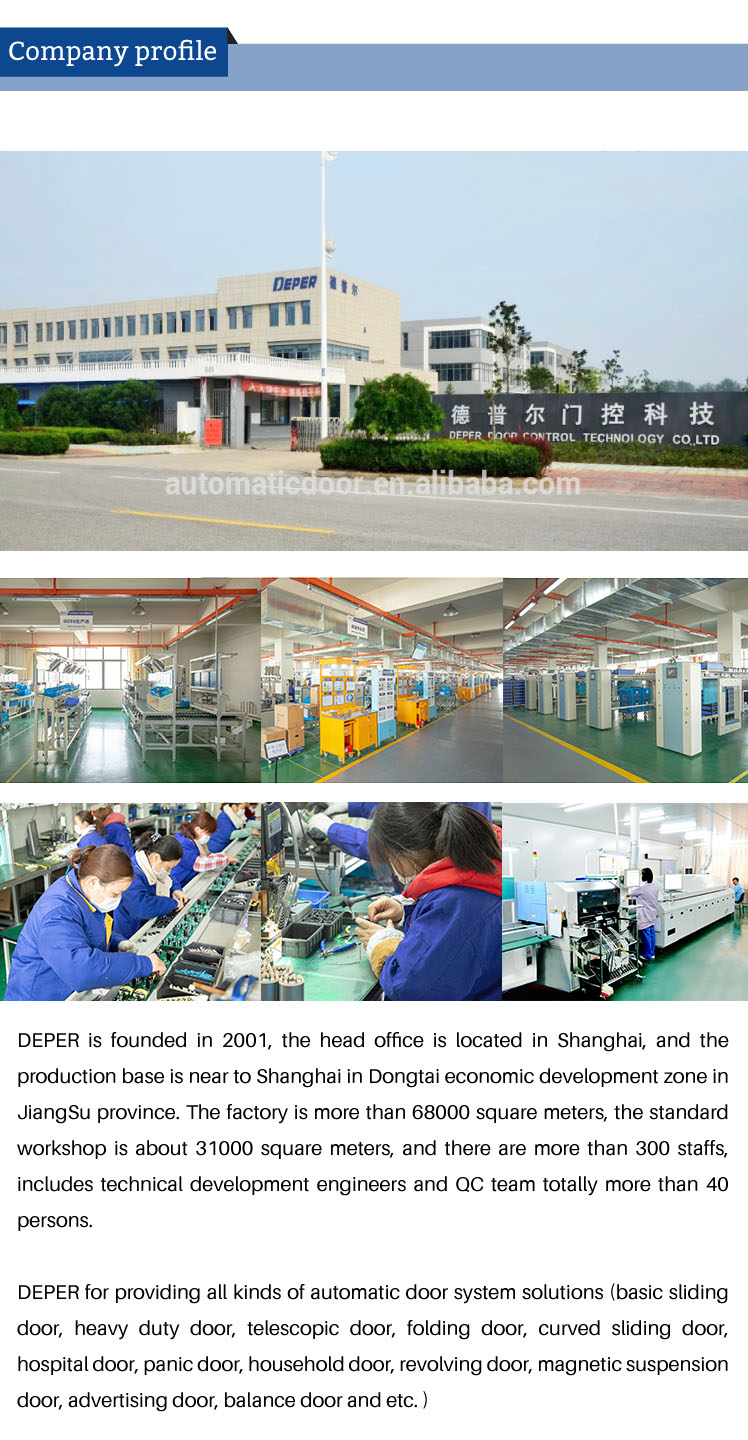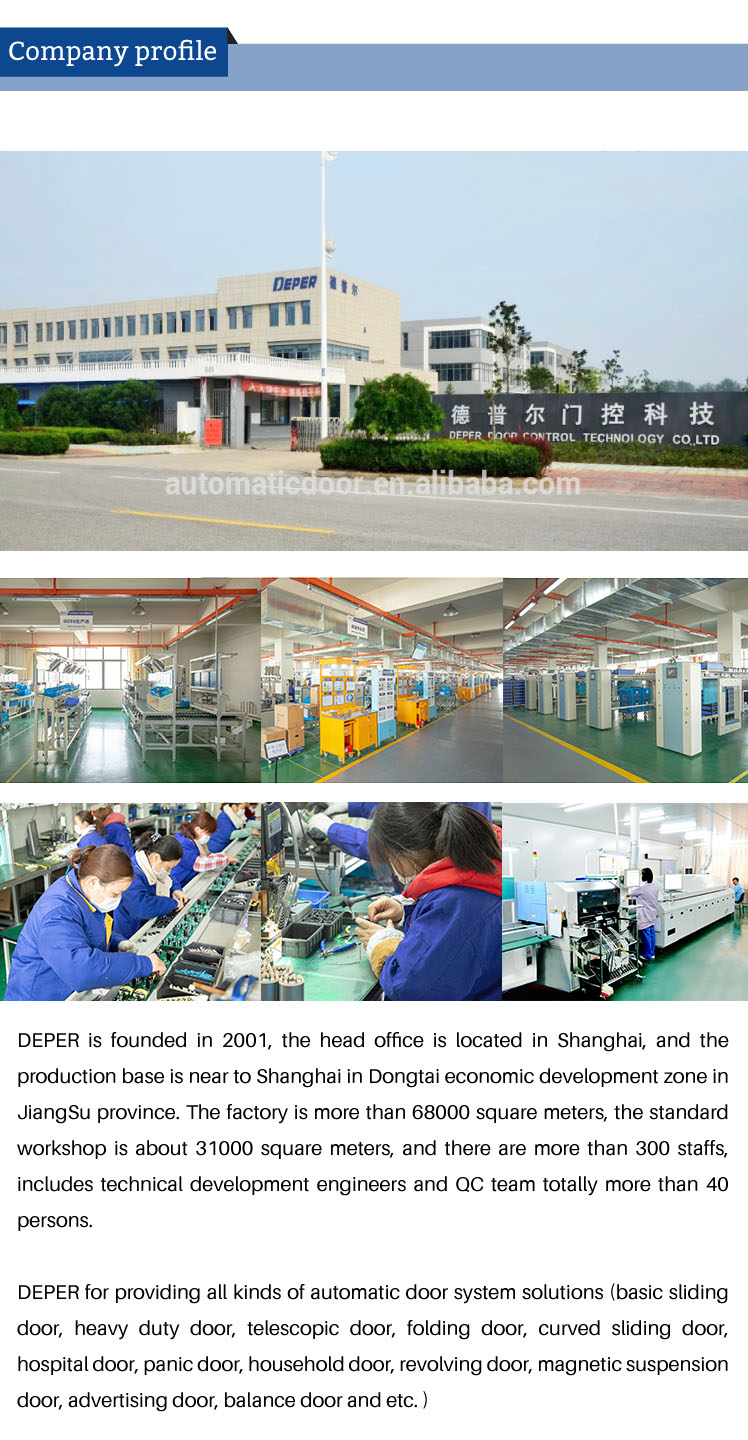 Our Certifications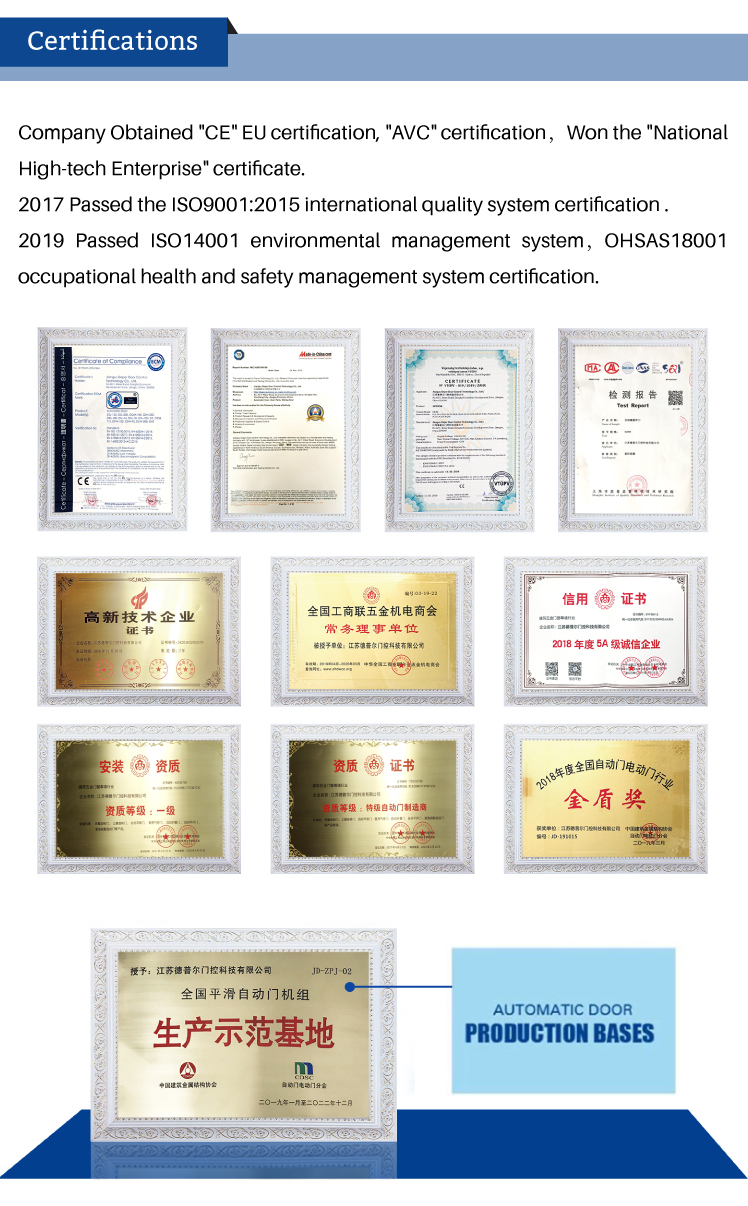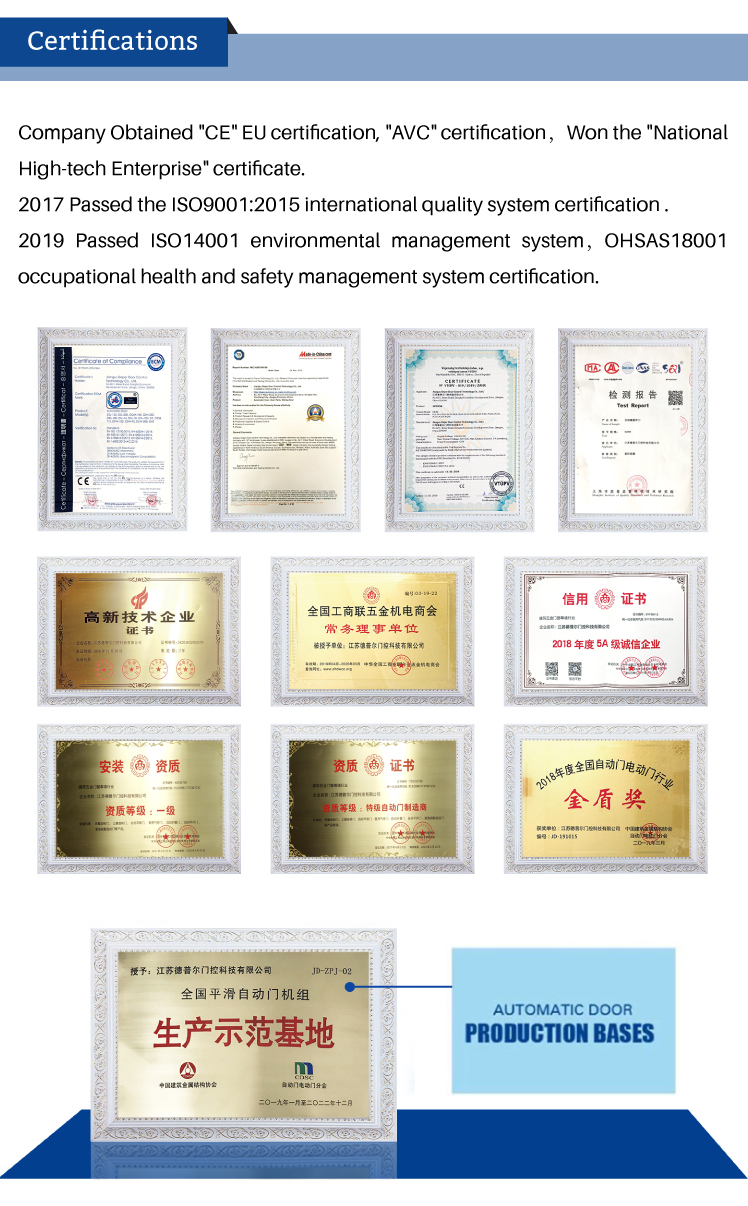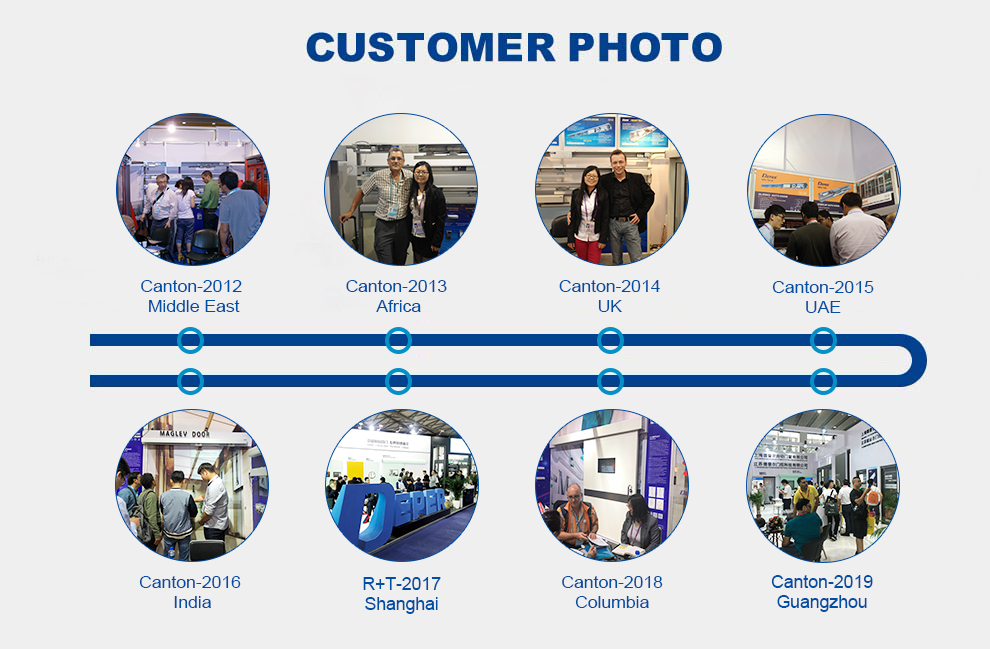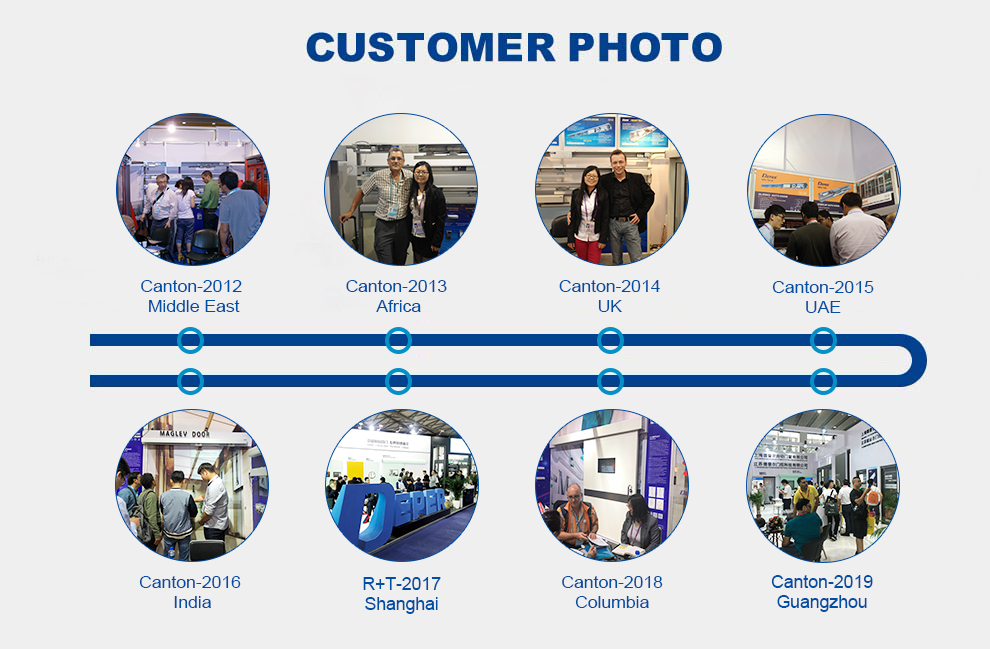 Packing & Delivery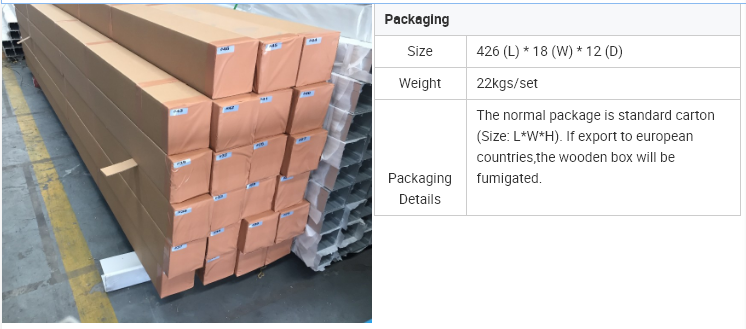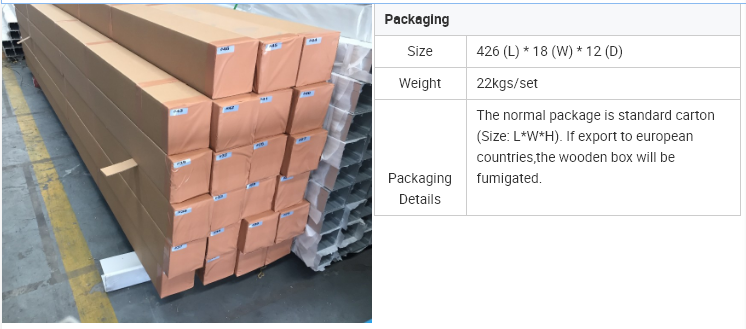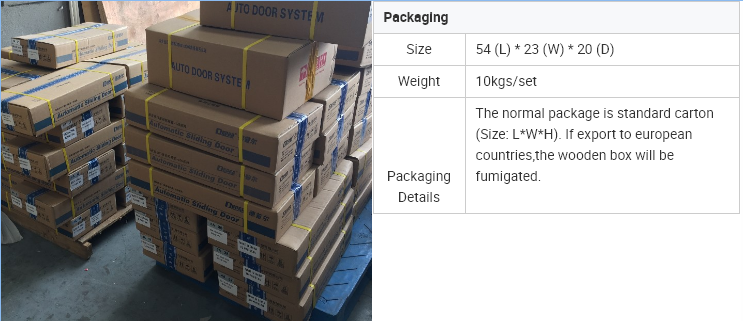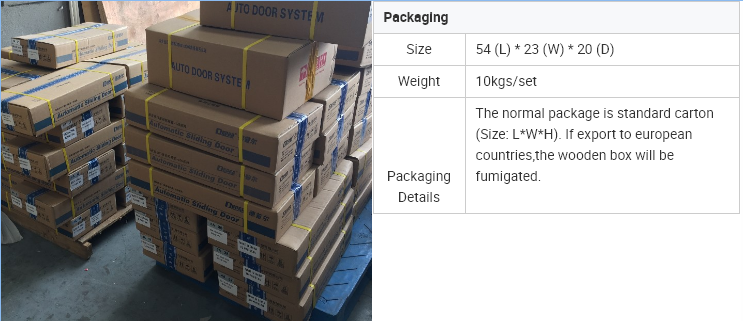 FAQ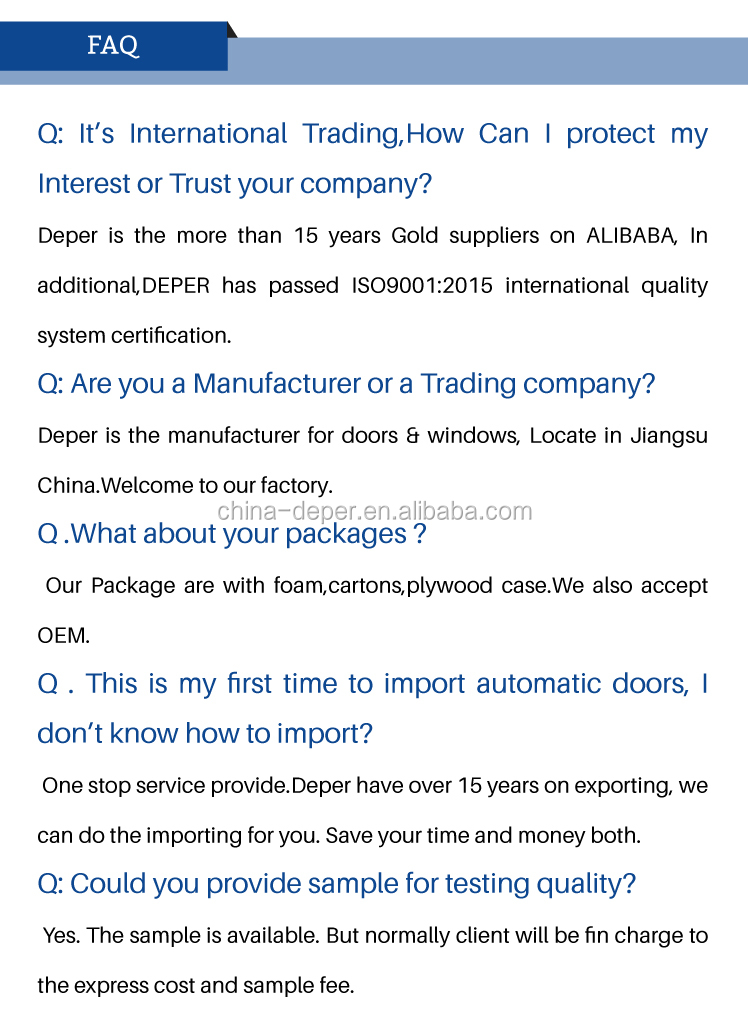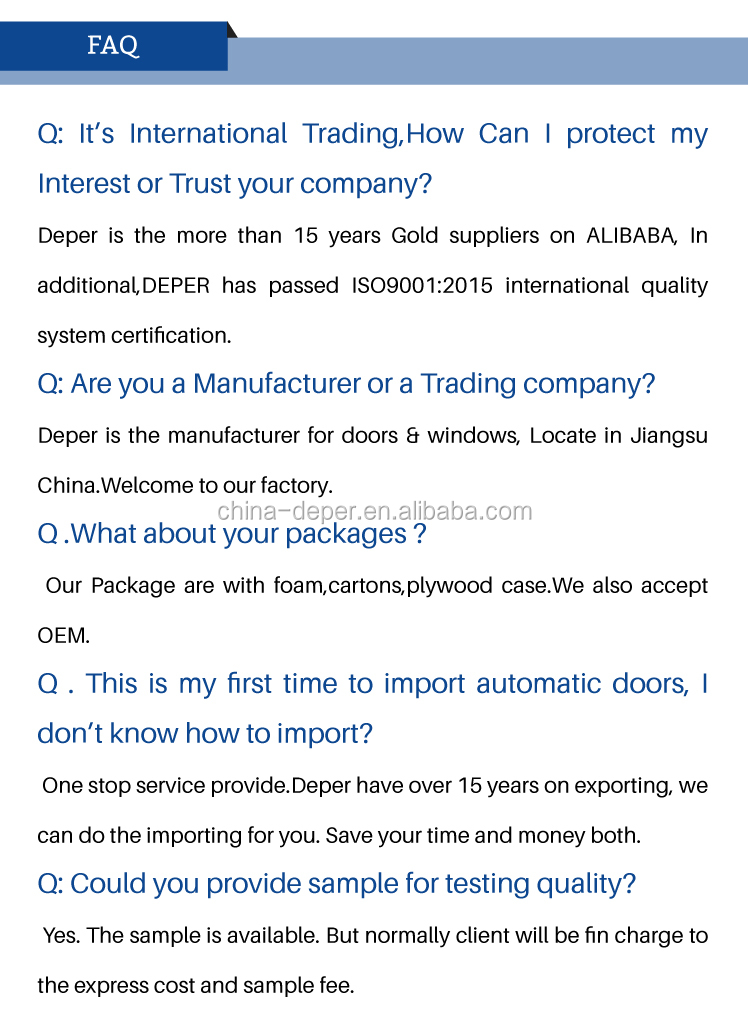 Contact us if you need more details on Automatic Door Controller. We are ready to answer your questions on packaging, logistics, certification or any
Other
aspects about
Automatic Sliding Door
、Automatic Door Operators. If these products fail to match your need, please contact us and we would like to provide relevant information.
Product Categories : Motor & Controller